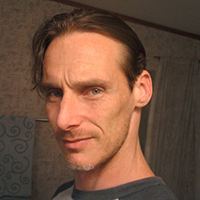 I'm not one to talk about myself but maybe it suits a purpose in this case. After all, you are you visiting! This site is a work in progress and a long waited vision. The world of art has made great advances in a short period of time as technology has enabled the artist with new tool sets, giving us creative outlets that engage audiences across a wide spectrum so this is a place for me to share with you what I do and feel passionately about!

I began as an illustrator, attracted by story telling through imagery. My first interest in comics; particularly science fiction, put my focus in both organic form and technical inanimate objects. Through my second love of music, my illustrations gained attention of local music publications because I was creating new illustrations for each concert advertisement. They formed a sort of story. People were collecting my work. This is what led me into a graphic art focus; print cover illustrations opportunities.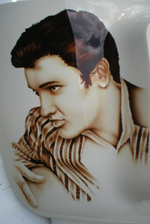 "A Young Elvis"
by ken hill
That exposure led me in other directions; murals, faux finishing, signs and automotive graphics. I have been an airbrush artist since the begining of my freelance career, first painting murals in restaurants and eventually gaining employment at an outdoor communications company painting billboards. I learned a lot about typography and ad design while I worked in that position. The company was "Outdoor Systems" at the time and later became "Clear Channel Communications". Later, I moved into automotive graphics as technology began to take the place of traditional billboard production methods and the need for render artists became outmoded. Before large format printers, pictoral work was done with traditional oils by oil artists such as myself. Despite the job displacement, I learned very useful skills from that position which I still put into practice today.
As computer graphics became more common, I took interest in 3D modeling working at first with Blender 3D. Later, I worked with other 3D software such as Lightwave 3D, Maya and 3DStudio Max. I invested considerable time in modeling techniques and texture mapping, the next step was to bring together my 3d elements and live action footage and while I had learned a great deal on my own, I looked to higher education to increase my knowledge. I enrolled in the Art Institute in 2009 to pursue a degree in Media arts and animation. It set me on the path to learning the process involved in creating cinematic special effects.
At present, I am working as a freelance graphic and web designer. I have spent the last couple of years learning this skill in adition to the abilities I already have. I have a love and passion for cinematic effects and 3D design, infact my passion for art in general is wide ranging. As this site reflects some of my ability, it by no means is an expression of all the knowledge I have gained in my time as an artist. I believe in life in motion, that where we are should never become where we remain, that youth is a state of mind far beyond a static point in time but more a persuit to constantly remake ourselves into something better. All that I have learned, I owe to those that came before me in the field, who were willing to share their knowledge for their love of the arts! With all the new media and technology that have come into being in the present age, I am excited for the future and what it holds; unfettered creativity and discovery!